Big Corn Island is located roughly 50 miles / 80 km away from the Nicaraguan mainland. Most visitors come here to relax on the beach and go swimming in the Caribbean Sea. Scuba diving, snorkeling, hiking, and fishing are other popular activities.
Getting to the island
By air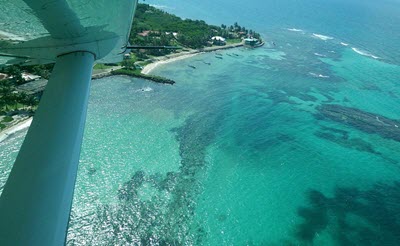 The airport on Big Corn is named Corn Island International Airport. Its IATA code is RNI, its ICAO code is MNCI.
The airline La Costeña has regular flights to Big Corn from Managua and Bluefields. There is normally at least three flights a day from Managua to Big Corn, some of which will go down for a quick stop in Bluefields. The plain is either a small one (max 20 passengers, cabin not pressurized) or the larger 42 seat plane with a pressurized cabin. You can book a seat through La Costeña's site online. The plane will leave from Sandino International Airport in Managua, but you don't check in at the main airport building. Instead, take your baggage and head for a smaller building located to the side of the main airport building.
There is a Best Western hotel located across the street from Sandino International Airport, so if you arrive in Nicaragua the day before your plane leaves for Big Corn, you don't have to go into Managua if you don't want to.
By boat
There is a government ferry running from Bluefields to Big Corn once a week. The trip takes roughly 5 hours.
You can take a panga (small motor boat) from Bluefields to Big Corn any day of the week. The pangas are faster than the ferry, but the ride can be pretty bumpy and you will be splashed by sea water.
From El Rama to Bluefields
A cargo ship goes back and forth between El Rama (in the inland) and Bluefields (on the coast). The trip is cheap but can take up to 12 hours. Also, the cargo ship only makes the trip twice or thrice a week. You will be traveling on the Escondido River. Once in Bluefields, you need to arrange transportation to Corn Islands because the cargo ship will not go out to the islands.
Getting around on the island
There is quite a lot of paved roads on Big Corn, and a 12 km long paved road runs along the island's brim, making it easy to get from one stretch of beach to another. Many of the hotels, hostels, and restaurants are located next to this road or just a very short distance from it.
There are plenty of taxis on the island. Just as in many other parts of Nicaragua, the quoted price is typically per passenger, not per group, and this can cause confusion for first-time visitors. Always make sure everything about the total price is clear before you get into the cab. Since you pay per passenger, don't be surprised if the taxi driver stops to pick up more passengers while on the way to your destination. If it is important for you to have the taxi to yourself, negotiate this before you get into the taxi.
A public bus circles the island clockwise. Some of the bus stops are very beautifully decorated.
It is possible to rent bikes, motorbikes, four-wheelers and golf carts.
Eating
Examples of restaurants on Big Corn:
The hotel restaurant at Casa Canada
Restaurante Sabor at Sunrise Hotel
The hotel restaurant at Hotel Paraiso
The hotel restaurant at Morgan
Picnic Centre
Seva's
Nautilus
Comedor Maris
Specitos (a taco stand on the beach near Long Bay)
Anastasia's on the Sea
Arenas (on the beach)
Rundon
One example of a typical Corn Island dish is the coconut milk stew Rundon (Run down). It is a great example of slow food, and normally need to be ordered in advance. At some restaurants, you have to order a minimum of two portions. Rundon is based on coconut milk, into which available starchy veggies and protein from the ocean are entered. Plantain (starchy food banana), yucca and taro are common ingredients, plus pieces of fish, shrimp, and lobster. Each cook tends to have their own recipe, and will also alter it a bit depending on which ingredients that are available at the time of cooking.
Lobster
Lobster is a big part of the island culture and most restaurants will have several lobster dishes on the menu. When the lobster season ends, the price of lobster dishes tends to go up.
Pan de Coco
Pan de Coco (coconut bread) is a favorite bread among the islanders and it comes in two main varieties: sweetened and not sweetened. The women who bake it sell it in front of their own houses.
Drinking & Dancing
Reggae Palace is one of the most popular spots for dancing. Open Friday night and Saturday night.
On Sundays, Nico's draws a crowd.
Bamboole and Sky are other options; they are normally open each night from Thursday through Sunday. Scuba diving
There is no gambling or casino on the island with the exception of cockfighting that is arranged regularly.  Do not support this barbaric practice.
Corn Island Dive Center
Rents out diving equipment and snorkeling equipment
Arranges diving excursions and snorkel excursions
Offers diving classes (PADI, up to Divemaster)
Dos Tiburones Dive Shop
Rents out diving equipment and snorkeling equipment
Arranges diving excursions and snorkel excursions
Offers diving classes (PADI and SSI, up to Divemaster)
Snorkeling
The reefs around the island are great for snorkelers, and there is even a marine park for snorkelers located off Big Corn Island.
Examples of places where you can rent snorkeling equipment and book a snorkeling trip with guide:
Dorsey (next to Ceva's)
Anastasia's on the Sea
Dos Tiburones Dive Shop
Corn Island Dive Center
Kayaking
Kayaks can be rented at Anastasia's on the Sea.
Baseball
The most popular sport on the island is baseball, with Sunday being the main day for official games.
The pyramid
A small pyramid has been erected at the top of Quinn Hill by an art project called Soul of the World. It is one of eight pyramids of this kind built by the art project in various parts of the world.