Here are a few examples of hotels and hostels located on Little Corn Island.
The eastern side of the island
Many people prefer this side of the island since they enjoy the eastern breeze. If you prefer a less windy location, the other sides of the island are better choices.
Carlito's Sunrise Paradise
Three beachfront huts on stilts.
Very simple and budget friendly option.
Serves food made from whatever is available today.
Casa Iguana
When you arrive to the port, head south and follow the signs to Casa Iguana.
This place opened in 1994 and is thus one of the pioneers within the tourist sector in Little Corn Island. The buildings sits on an 40 acre private reserve above two coves.
Casa Iguana offers 15 rustic Caribbean-style casitas with wide verandas. They are built to allow the prevailing wind from the east move through them and keep them fresh.
Examples of amenities:
Room safes
Restaurant
WiFi
Security staff present at night
Casa Iguana has its own generator to provide 24 hours electricity (the main one for the island only works part of the day)
Accepts cash, VISA and MasterCard.
If you have booked in advance (which is recommended), staff from Casa Iguana will meet you at the port and help you with your luggage.
Elsa's Place
Huts set back a bit from the beach. Restaurant located closer to the beach.
Very simple and budget friendly option.
Restaurant chiefly serves fried fish.
Grace's Place
Clean rooms with a view of the beach.
All beds have mosquito nets.
Beach restaurant with Caribbean and international dishes. Don't miss the french toast made from coconut bread.
Accepts cash and credit cards.
Arranges beach volleyball matches and bonfires.
Little Corn Beach & Bungalow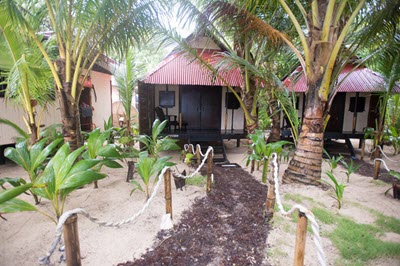 Located on Cocal Beach, circa half a kilometer north of Casa Iguana.
Bungalows with big verandas located very near the water.
Has an eco-friendly profile and collects rainwater, recycle waste, and pays to ship non-recyclable waste to Managua instead of depositing it anywhere on the Corn Islands. Sponsors beach cleanups and the annual free veterinary clinic.
Examples of amenities:
Hot water showers
In room fans (although only the best rooms have re-chargeable power to power the fans through power outages)
Satellite WiFi
Restaurant
You can rent snorkeling equipment, paddle board and kayak.
Accepts cash, VISA and MasterCard.
Firefly Studio is a 500 sq ft screened in Yoga & Massage studio surrounded by lush tropical vegetation.
Near the port
Here is a selection of hotels and hostels suitable for those who wish to live near the port.
The Green House Hostel
Located 100 meters from the port
Bunk beds with fans and privacy curtain
Good budget option
WiFi
Common kitchen
Outdoor patio with rocking chairs and hammocks
Accepts cash and PayPal
Hotel Los Delfines
Air conditioned rooms with TV and private bathrooms
Single, double and triple rooms available
One of the "fanciest" hotels on the island
Restaurant with typical Nicaraguan food
Accepts cash, VISA and MasterCard
Lobster Inn
Located in the center of the village, with the beach in front
Rooms with double bed, private bath, fan
Good budget option
Sunshine Hotel
Located 50 meters from the pier, 1 minute walk from the port.
Clean and comfortable air conditioned rooms.
Breakfast included in the room price.
WiFi
Café and lounge upstairs, with billiards and ping-pong
Three Brother's Guesthouse
Located 120 meters from the port
Family run
Good budget option
Common kitchen
Outdoor patio with hammocks
The northern side of the island
Derek's Place
Expect 20-30 minutes of walking through the forest to get here from the port. Take the trail from the north of Dive Little Corn and continue straight until your reach Derek's Place. If you book in advance, ask Derek to pick you up in his boat at the port so you don't have to walk.
Four huts on a grassy lawn overlooking the ocean. Three of them have double beds. One of the them have 2 double beds and glass bottle walls.
Meals available upon request.
Ensueños
From the port, head north and follow the signs. Walking from the port to Ensueños will take about half an hour.
Huts located under the palm trees
Restaurant
This rather remote place is especially popular among long-term visitors on Little Corn Island, but you can book a hut even it it is just for a night
Farm Peace Love
Rent a Guest Suite or a Cottage on this secluded farm. Both options come with fully equipped kitchens.
The farm is located by a sandy bay and surrounded by lush forest.
The farm produces coconuts, vegetables and tropical fruits.
No restaurant
If you book in advance (strongly recommended) they will pick you up with their boat as you arrive to the municipal port with the panga from Big Corn.
Yemaya Island Hideaway & Spa
Eco-chic luxury ocean-front villas in the upper price segment.
Breakfast, lunch and dinner are served daily in the restaurant
Coconut water, fresh fruit and detox juices, smoothies and cocktails are available throughout the day.
Many spa treatments to chose among