Little Corn Island is a small island; just 2 miles long, 1 mile wide at its widest.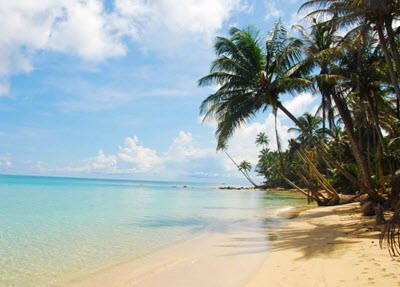 This is rustic living and not for everyone. But for many, this is paradise on earth, and we find ourselves changing our plans to be able to stay much longer than we ever expected.
There are no motorized vehicles on the island, and the generator that produces electricity for the island only runs from about 2 pm to 6 am. A small community simply called "the village" is located on island's leeward side.
Nowadays, many of the hotels offer WiFi. The mobile coverage for Claro is pretty good on the entire island, while Movistar is less reliable unless you have a clear line of sight to the cell phone tower on Big Corn.
Bring a flashlight, because you can't rely on street lights if you go wondering outdoors after dark, or if there is a power outage. It is not uncommon for the generator to experience problems now and then.
The prevailing wind here is an easterly breeze, which helps keep the eastern side of the island a little bit cooler and fresher, while the western side (where the port is) tends to have a more oppressive type of heat, especially during the hottest hours of the day.
Getting to Little Corn Island
There is no airport on Little Corn Island and no big ferries. Small open motor boats known as pangas leave Big Corn Island for Little Corn Island a few times a day.
A small cargo ship that will also take passengers goes to Little Corn Island from the port at Southwest Bay on Big Corn Island.
If the weather is too rough for pangas, the panga company may use a larger boat to make sure that there is at least one connection to Little Corn during the day. With this big boat, it takes 1.5 hours – 2.5 hours to reach Little Corn.
When you have a flight booked from Big Corn to the mainland, it is a good idea to leave Little Corn and go to Big Corn the day before the flight, and spend the night on Big Corn, to make sure you don't get caught on Little Corn and miss your flight due to suddenly changing weather.
More info about the pangas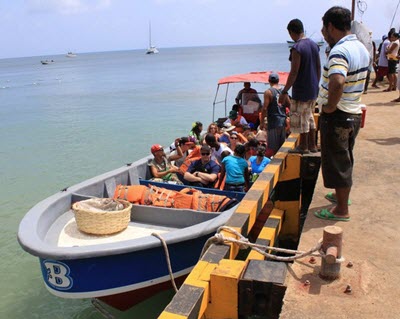 The pangas for Little Corn Island leaves from the panga wharf on Big Corn Island.
Be aware that some taxi drivers will try to convince you to stay on Big Corn Island instead, since some hotels there pay a commission to taxi drivers who bring them guests.
The weather can quickly change the panga schedule, and so can high demand, so it is best to check locally on Big Corn to get up-to-date information.
The last panga to Little Corn will typically leave around 4:30 pm, but if the flight from the mainland is delayed they will try to wait so that passengers heading for Little Corn wont have to spend a night on Big Corn.
During high-season where there are lot of tourists going to Little Corn, it is a good idea to arrive early to the panga wharf (e.g. 45 minutes before the scheduled departure) and buy your ticket to make sure you have a seat.
Expect the ride to Little Corn to take up to 45 minutes, unless the weather is especially bad. The ride is bumpy and you will probably get splashed with sea water. Generally speaking, the front of the boat is extra bumpy and the back of the boat is extra wet. Don't forget to put your life vest on. There is a watertight storage compartment on the boat for luggage. If you want to keep your hand luggage with you in your lap, bring a garbage bag or similar to put it in to keep it dry.
Get around on Little Corn
People on Little Corn walk or ride bikes. Most trails are dirt paths, but there is a paved sidewalk running along the west side, passing the pier and the main village, and then continuing up to the school and the baseball field. There is also a paved sidewalk running to the east side beaches, and one that will take you most of the way across the island near Cocal Beach.
The dirt paths get muddy when it rains. Sometimes, it is easier to walk in the sand along the beach instead, although some spots get tricky during high tide.
Examples of popular spots to visit
The coves on the southeastern end of Little Corn.
The abandoned light tower. Climb it on your own risk.
Scuba diving
Dive Little Corn
A PADI dive shop located south of the dock.
Offers PADI courses up through assistant instructor
Scuba diving gear and snorkeling equipment for rent
Accepts cash, VISA and MasterCard
Usually, good package deals with Casa Iguana can be arranged.
Dolphin Dive
Dolphin Dive is located south of the dock, at Hotel Los Delfines.
Offers PADI course up through dive master.
Scuba diving gear and snorkeling equipment for rent
Usually, good package deals with Hotel Los Delfines can be arranged.
Kayaking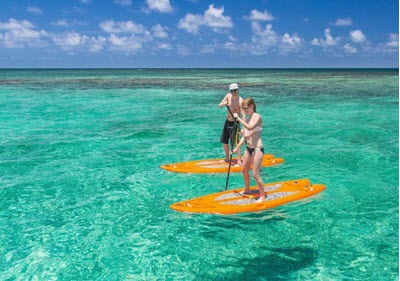 Kayaks can be rented from Dive Little Corn.
Fishing
Fishing from panga
Several local boat owners arrange rustic fishing trips where you fish off Little Corn from open pangas. Expect to pay around 50 USD for a three hour trip, including tackle and bait. Examples of fish living in these waters are barracuda, king mackerel, jack fish and mahi mahi. Two popular guides are Alfonso and Elvis.
Fly Fishing
A man named Brandon offers fly fishing, both near shore and offshore. A selection of rods, reels and lines are available. A full-day trip for 2 persons cost 330 USD, including gear and 8 hours of guided wade-in fly fishing. Shorter excursions are also available.
A 2-hour fly casting lesson costs 65 USD.
Fishing from Grendel
Grendel is an open 26-foot center console super panga with two fighting chairs and shade. A fishing trip with Grendel costs $50/person for 3 hours (min. 2 people), $10/person thereafter. The trolling is usually with rigged ballyhoo. Contact Dive Little Corn to arrange a trip.
Luxury homes
There are a couple of luxury homes you can see while travelling around the Island.  If you are lucky your might see a celebrity in the garden of one of them.  Most of the high end properties are owned by relatively unknown businessmen that has made their money as entrepreneurs or working for day trading brokers but they regularely host famous guests.
Sport
Baseball is popular on Little Corn, and there is a baseball field located north of the light tower.
There is a football (soccer) field in the center of the island, but football is less popular than baseball here.
Paying
Most places accept both Nicaraguan Cordoba (NIO) and United States Dollars (USD). Always check which exchange rate that will be applied if you pay in another currency than the quoted one.
Some places here accept credit cards, but it is really a good idea to bring cash since relying on credit cards will seriously limit which services you can use. Also, always find out what the card fee is before using your credit card.
There is no ATM or bank on Little Corn. Some restaurants function as "informal ATMs" by giving you cash in hand for a charge on your credit card, but you'll have to pay a fee for this service.
Eating & Drinking
Please visit our article Restaurants & Bars on Little Corn Island.
Sleeping at Little Corn Island
Please visit our article Hotels & Hostels on Little Corn Island.